More info
Gas Lift
Wholesale price EXPORT - 6.70 $
Column is a hydraulic gas lift mechanism that slots into the hole on the round base, where it locks into place with a compression joint for a solid construction.
The hydraulic, which provides the stool with variable height and 360 degree swivel, is made up of two cylinders with a valve between that controls air flow, activated by a button on the narrower end. When this button is pressed, an unloaded hydraulic will expand to raise the stool, and when loaded will compress to lower it.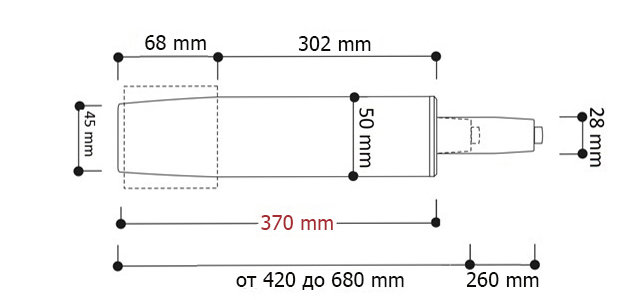 Used in bar stools.. We work with high-quality and reliable gas-lifts of WDF and MDI firms.
Specifications:
Gas lift GS-260
The maximum load is 120 kg;
TUV class 2;
height of beaker:

370

mm;
maximum lift: 680 mm;
piston stroke travel (up & down): 260 mm;
diameter: 50 mm;
chrome.